Description
As it is mentioned in all knowledge materials regarding to Poly vinyl chloride resins, these products are manufactured based on 4 basic methods and processes: emulsion, suspension, bulk and solution polymerization processes. Mehrtash Sepahan Company produces PAXOL-810 product in relation to the last above mentioned category.
The Paxol-810 as Anti-Fouling agent for P.V.C polymerization product is a multi-purpose multi-purpose sediment material for use in suspension-based PVC (polyvinyl chloride) reagents that effectively eliminates the sedimentation problems of the internal walls of the reactors. This product is produced with maximum purity.
Features and Benefits
Increasing the cooling capacity of the polymerization reactor

Increasing the polymerization reamer efficiency

Non-hazardous product according to international standards and frameworks

Reducing operating and consuming costs due to the increase in the timing of the replacement of production batches
Application
The Paxol-810 product of Mehrtash Sepahan Company is used to protect the internal walls of PVC polymer reagent by suspension method. The best result is achieved by spraying the product at very high temperatures.
---
Why choosing Paxol?
There are major benefits in utilizing PAXOL-810 of Mehrtash Sepahan Company, including:
Successfully tested in the most well known petrochemical complexes in Iran.
10% Active Material only might be found in composition of this product brand.
Considerable reduction of PAXOL's consumption rate. (As one of our practical cases: continuously running the reactors up to around 160 batches in relation to 80 batches with previously used anti-fouling agent's brand.)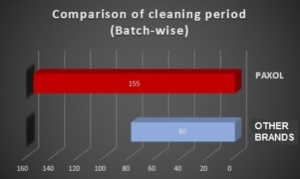 ---
Packaging
This product is supplied in standard 1.5 liter bottles and metal barrels or PEs under nitrogen pressure.
Packing in accordance with customer's request can be changed.
Please contact our Sales Engineering Dept. for more information about this product via whatsapp application:
+989128953022